(Rasmussen Report) – The Rasmussen Reports daily Presidential Tracking Poll for Monday shows Mitt Romney attracting support from 49% of voters nationwide, while President Obama earns the vote from 48%. Two percent (2%) prefer some other candidate, and one percent (1%) remains undecided.
Rasmussen Reports will conduct our final tracking poll tonight and release the results early Tuesday morning. Later today, we will issue our final swing state polls including Ohio, Virginia and New Hampshire.
Since mid-September, after the convention bounces faded, the candidates have generally been within three points of each other on a daily basis. Heading into the first presidential debate, Obama had a slight edge. After that debate, Romney had the advantage.  For a few days in late October, Romney reached the 50% level of support and opened a modest lead. But the candidates have been tied or within two points for each other for the past eight days. See daily tracking history.
Just over one-out-of-four Americans (27%) say the upcoming election has negatively affected their personal relationship with a friend or family member.
The Rasmussen Reports Electoral College projections now show the president with 237 Electoral Votes and Romney 206. The magic number needed to win the White House is 270. Eight states with 95 Electoral College votes remain Toss-ups: Colorado,  Florida, Iowa, Nevada, New Hampshire, Ohio, Virginia and Wisconsin.
The Rasmussen Reports Senate Balance of Power rankings project the Democrats are likely to end up with 47 Senate seats and the Republicans with 46. Seven Senate races remain Toss-Ups: Florida,  Indiana,  Montana,  Ohio,  Pennsylvania,  Virginia  and Wisconsin.
"It's somewhat surprising that heading into the final weekend of the election season, we are unable to confidently project who is likely to win the White House," "But the race for the White House remains close because of the economy. Most Americans do not feel better off than they were four years ago, but most are not feeling worse off either."
Rasmussen Reports polling tends to show less volatility than other polls for a variety of reasons. In 2008, we showed virtually no change during the final 40 days of the campaign.   Then-candidate Obama was between 50% and 52% in our polling every single day. He generally held a five- or six-point lead, occasionally bouncing up to an eight-point advantage and only once falling below a four point-lead. This stable assessment of the race is consistent with the reality of what we know about voter behavior. Obama won the election by a 53% to 46% margin.
The race has been consistently stable and close during this campaign season as well. For most of the year, Rasmussen Reports has conducted 500 survey interviews per night and reported the results on a three-day rolling average basis. For the final week of the campaign, we are conducting 1,000 survey interviews per night.
Rasmussen Reports figures include both those who have already voted and those likely to vote. Obama leads among those who have already voted, while Romney leads among those deemed likely to vote. Thirty-nine percent (39%) of voters are projected to be Democrats and 37% Republicans. Both candidates do well within their own party, while Romney has a nine-point advantage among unaffiliated voters.
One key to the outcome on Election Day will be the racial and ethnic mix of the electorate. In 2008, approximately 74% of voters were white. The Obama campaign has argued that this will fall a couple of percentage points in 2012 with an increase in minority voting. Others have noted the increased enthusiasm among white voters and the decreased enthusiasm among Hispanic voters and suggest that white voters might make up a slightly larger share of the electorate this time around. It is significant because Romney attracts 58% of the white vote, while Obama has a huge lead among non-white voters.
If the white turnout increases on Election Day, it will be very difficult for the president to win. If it decreases, it will be very difficult for him to lose. Rasmussen Reports currently estimates that white turnout will be similar to the 2008 totals. Black voters, however, are far more likely to have voted already than any other segment of the electorate.
Scott Rasmussen provides an overview of the election on this weekend's edition of his new television show–What America Thinks . The program is seen on WLNY in New York at 10:30 Sunday morning and on more than 60 stations nationwide.
(Presidential Job Approval Data Below)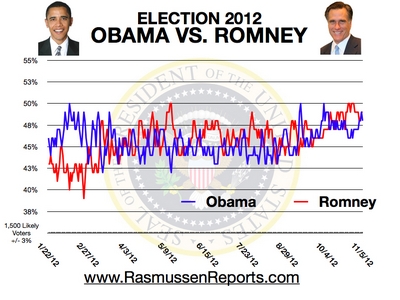 A president's job approval rating is one of the best indicators for assessing his chances of reelection. Typically, the president's job approval rating on Election Day will be close to the share of the vote he receives. Currently, 50% of voters say they at least somewhat approve of the president's job performance. Forty-nine percent (49%) at least somewhat disapprove.
Platinum Members can review demographic crosstabs and additional information from the tracking poll on a daily basis.
Republicans still have a slight edge in voter trust when it comes to the economy and six other major issues – taxes, health care, immigration, national security, Social Security and government ethics – regularly tracked by Rasmussen Reports. Democrats have the advantage in voter trust in education and energy policy. The two are tied when it comes to the war in Afghanistan.
To get a sense of longer-term Job Approval trends for the president, Rasmussen Reports compiles our tracking data on a full month-by-month basis.
(Approval Index data below)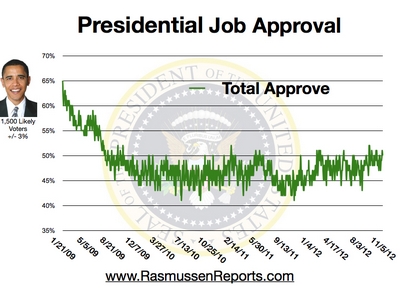 Intensity of support or opposition can have an impact on campaigns. Currently, 36% of the nation's voters Strongly Approve of the way Obama is performing as president. Forty-four percent (44%) Strongly Disapprove, giving him a Presidential Approval Index rating of -8.
During midterm elections, intensity of support can have a tremendous impact on turnout. That was demonstrated in 2010 when Republicans and unaffiliated voters turned out in large numbers to express opposition to the Obama administration's policies. However, in presidential election years, there is a smaller impact on turnout. Still, all indications so far for Election 2012 suggest that Republicans are more engaged and more likely to turn out.
(More below)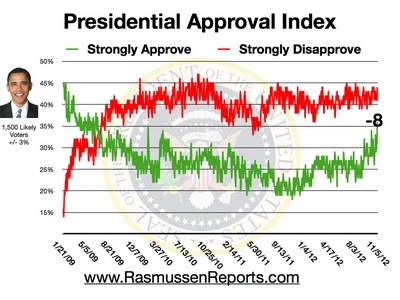 Rasmussen Reports has been a pioneer in the use of automated telephone polling techniques, but many other firms still utilize their own operator-assisted technology (see methodology). Pollsters for Presidents Jimmy Carter and Bill Clinton have cited our "unchallenged record for both integrity and accuracy." During Election 2008, Rasmussen Reports projected that Barack Obama would defeat John McCain by a 52% to 46% margin. Obama was 53% to 46%. In 2004, Rasmussen Reports was the only firm to project the vote totals for both candidates within half a percentage point.
Daily tracking results are collected via telephone surveys of 1,000 likely voters per night and reported on a three-day rolling average basis. To reach those who have abandoned traditional landline telephones, Rasmussen Reports uses an online survey tool to interview randomly selected participants from a demographically diverse panel. The margin of sampling error for the full sample of 3,000 Likely Voters is +/- 2.5 percentage points with a 95% level of confidence. Results are also compiled on a full-week basis and crosstabs for full-week results are available for Platinum Members.
http://www.rasmussenreports.com/public_content/politics/