(Daily Caller) – Speaker of the House Paul Ryan couldn't hide his smile when Vice President Joe Biden repeatedly told protesting Democrats to sit down and shut up.
A joint session of Congress met Friday to certify the Electoral College votes cast during the 2016 presidential race.
"Mr. President, I object on behalf of the millions of Americans, including members of the intelligence committee," Rep. Barbara Lee said before Biden cut her off and she was drowned out by boos.
"There is no debate. Debate is prohibited," he said. "Objection cannot be received."
Ryan can be seen smiling throughout the protests.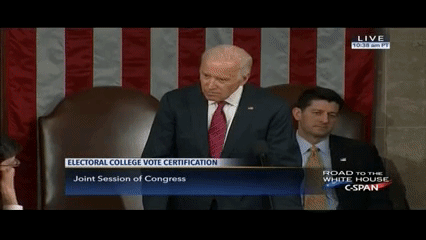 "Mr. President, I object to the votes from the state of Wisconsin, which should not be legally certified," Rep. Sheila Jackson Lee insisted.
"Please come to order," a visibly frustrated Biden said.
Jackson Lee then tried to bring up "the Russian intrusion," and was again silenced.
Ryan finally lost it and started laughing when Rep. Maxine Waters stood up and asked, "is there one United States senator who would join me in this letter?"
dailycaller.com/2017/01/06/paul-ryan-busts-out-laughing-as-democrats-protest-trumps-election-certification-video/